In your Bluestone PIM account, you can configure and use columns if you have System Admin, PIM Write, PIM Read, or PIM Admin permissions.
---

Using column layouts
It is possible to create new column layouts that include additional columns for specific general information and attributes for your and your organization's use.
Go to Products in the left navigation.
Click on the Column setup to modify the column grid.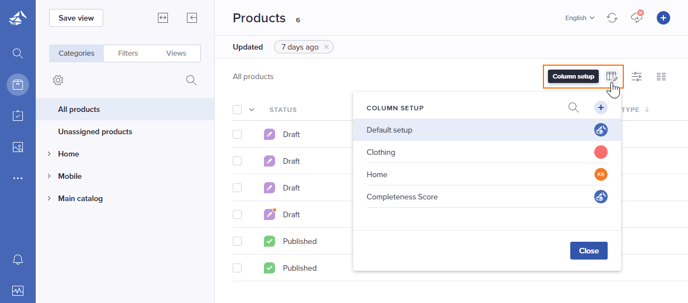 The Default setup consists of three columns: Status, Name, Number, and Product Type. The default column setup is optional for you to be changed as well.
Hover on the column setup, click on the More option (3 dots icon), and Edit.

Information: you can select the preferred setup from the available list to use an existing column layout.
Click on the Add new column setup, and click icon to create a new one.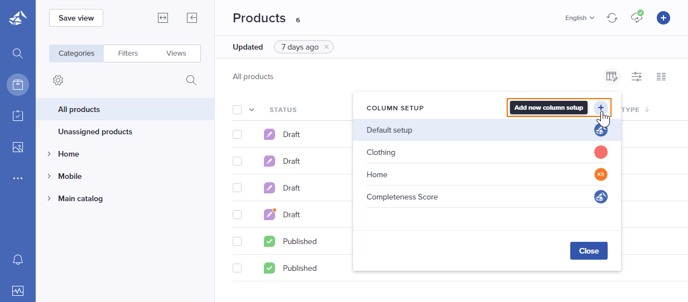 Enter the name of the column setup and click on icon
on the left panel to select the column.
You can rearrange the order on the selected column using the drag-and-drop arrow
You can select ascending or descending sorting for 1 of the selected columns
Click on the Save button after the finished column setup.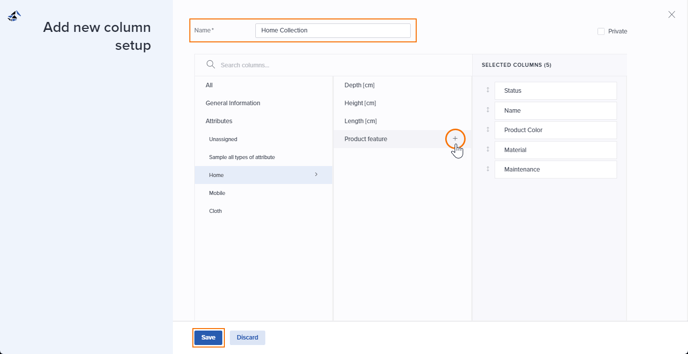 The Private column setup for personal use checkbox is optional.
Once you have applied your new filter column, after saving the product grid will contain a new column setup.

Sorting by column
To sort the grid by column, click on the selected column as follow;

One click will sort by ascending order,
Two clicks will sort by descending order, and
Three clicks will disable the sorting.

It is possible to show more product-related columns by following the procedure below.
Browsing settings
The grid has browsing settings to configure the browsing behavior.

List products recursively
Enable this option to view products in the selected category and all sub-categories.
Disable this option to only view products in the selected category.
Browse archived products
Enable this option to view all archived products in the grid.
When refreshing, the column setup will return to the default state (Default setup).