If you have System Admin or PIM Admin permissions in your Bluestone PIM account, you can define Webhooks in Settings.
---
Tip! A webhook can be used to post notifications to a given external URL.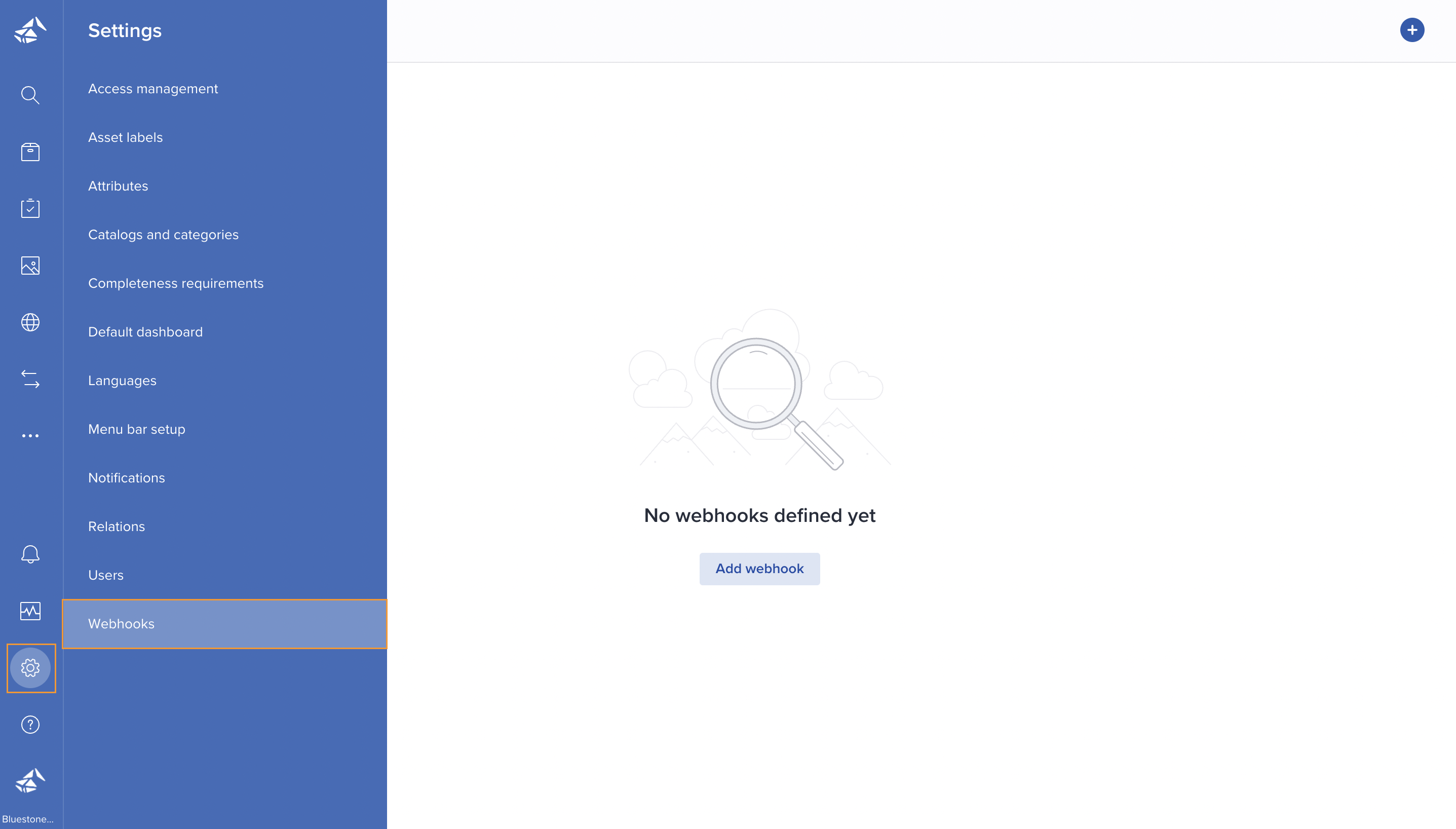 In your Bluestone PIM account, click the Settings icon in the left main navigation bar. Then click on Webhooks.
Click the Add webhook button or icon on the right side to add a webhook.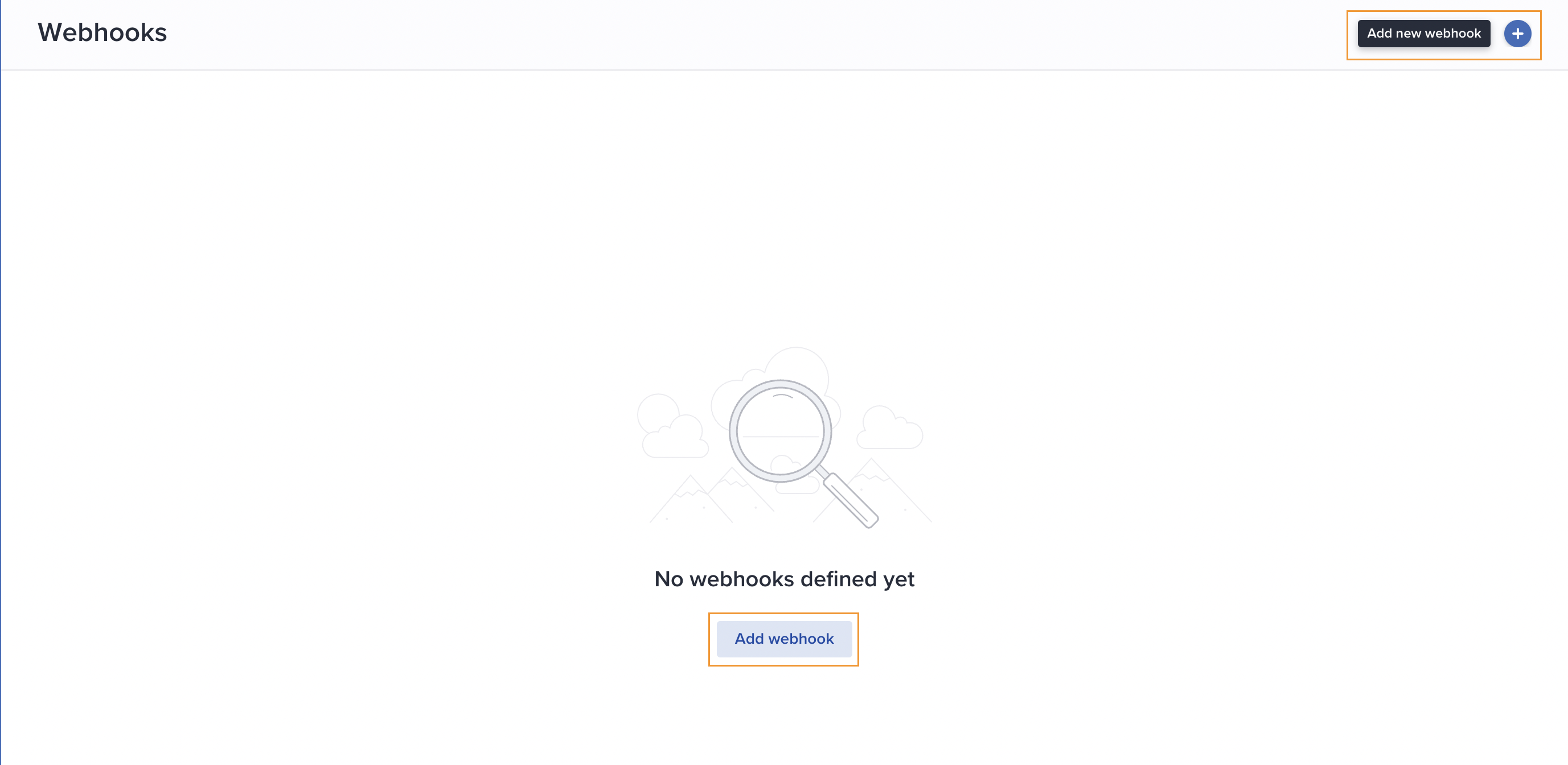 Enter a Webhook URL and a Secret key as a password and choose the status. Select the updates to be sent with Webhook.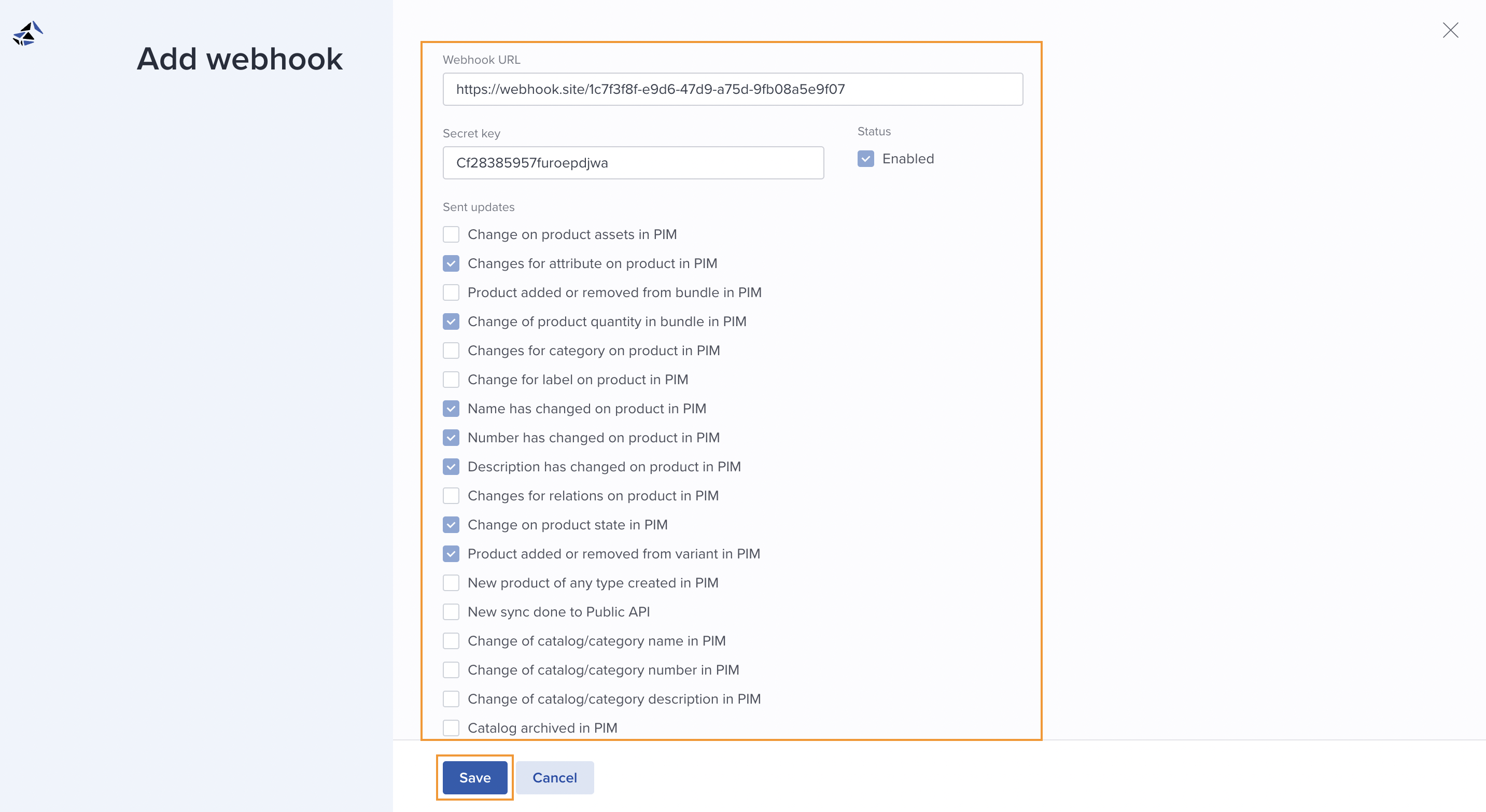 Click Save. The webhook will then be enabled and shown in the grid.
Disable the webhook at any time by using Enable switch.
To edit or delete the webhook - hover over the webhook and click the More options

icon.

---
Webhook types
The webhook types specify the kind of event used for messages or notifications.
1. Change on product assets in PIM:
Unassigned media from the product
Add media to the product
2. Changes for attributes on a product in PIM:
Add an attribute to the product
Remove an attribute from the product
Update an attribute value on the product
3. Product added or removed from a bundle in PIM
Add a product to the bundle
Remove the product from the bundle
4. Change of product quantity in bundle in PIM
Update product quantity of linked product
5. Changes for a category on product in PIM
Add product to main category/sub-category
Remove the product from the main category/sub-category
6. Change for label on a product in PIM
Add a label to the product
Remove the label from the product
7. Name has changed on product in PIM
Update the name on the product
8. Number has changed on the product in PIM
Update the number on the product
9. Description has changed on product in PIM
Update the description of the product
10. Changes for relations on product in PIM
Add relation to the product
Remove the relation from the product
11. Change on product state in PIM
Set product state to the playground
Update product state to published
Archive product
12. Product added or removed from variant in PIM
Add product to variant in PIM
Remove the product from the variant in PIM
13. New product of any type created in PIM
Create a new product in PIM
14. New sync done to Public API
Sync any change of product to PAPI
15. Change of catalog/category name in PIM
Update the name of the catalog/category
16. Change of catalog/category number in PIM
Update the number of the catalog/category
17. Change of catalog/category description in PIM
Update description of catalog/category
18. Catalog archived in PIM
19. Category moved to a different parent catalog in PIM
Re-assign category to different parent catalog
20. Category reordered within parent catalog in PIM
Re-order category within parent catalog
21. Change of value in category level attribute in PIM
Add attribute value to category-level attribute
Remove attribute value from category level attribute
Update attribute value on category level attribute
22. New catalog/category added in PIM
Add new catalog
Add a new category under the catalog
23. Category removed from PIM
24. Attribute value changed on product
Add attribute value to product attribute
Remove attribute value from product attribute
Update attribute value on product attribute
25. Attribute assigned to product
Add the attribute to the product
26. Attribute unassigned from product
Remove the attribute from the product
27. Plugin data